Beskrivelse
NYHET! Superkraftig 15″ driver fra Dayton med FS nede i 19,5Hz, xmax på hele 19mm og 800W RMS.
Informasjon fra produsent:
Highlights
Sweeps massive amounts of air!
Over 1-1/2″ of total cone travel
800 watts RMS power handling
The latest in subwoofer technology
Dual linear stiffness spiders limit distortion and rocking modes
Dual 2 ohm, 2-layer copper voice coils
Large vented pole piece and under-spider venting
If you want outrageous amounts of bass, you gotta move some air
The Ultimax Series of dual voice coil subwoofers, from Dayton Audio, are not for the faint of heart. Built using the latest in subwoofer technology, Ultimax subwoofers are the pinnacle of low frequency driver design. An Ultimax subwoofer tests the strength of your foundation with fast, articulate, gut-wrenching bass.
The versatility you need for mobile, home, or pro subwoofer excellence
Dual 2 ohm voice coils allow for stereo 2 ohm and mono 1 ohm wiring configurations when connecting to high current car audio and professional audio amplifiers to extract maximum power. For home audio applications, simply wire the voice coils in series for a benign 4 ohm load for greater amplifier compatibility.
Built to produce massive low frequency output and keep on doing it
To improve power handling, increase thermal management, and reduce power compression, Dayton Audio designed the Ultimax Series with large black anodized formers and vented pole pieces, under-spider ventilation, and two-layer copper voice coils.
Over 1-1/2″ of travel (3/4″ Xmax) is kept completely linear through the use of dual spiders that also limit distortion and rocking modes. "Tall-boy" rubber surrounds with integrated gaskets maintain driver surface area during extreme excursion moments. Thick, one-piece Nomex honeycomb covered cones are covered with woven, heavy-duty glass fibers creating ultra-still cones that resist deformation.
A strong motor takes you to wherever you want to be
A large copper sleeve and copper pole cap in the motor reduce energy storage from inductance, with the side benefit of lowering distortion for "faster" response. Large dual-stacked, high-energy magnets handle the heavy lifting and bring Qts down to a level where Ultimax subwoofers can be used in vented or sealed cabinets and enclosures.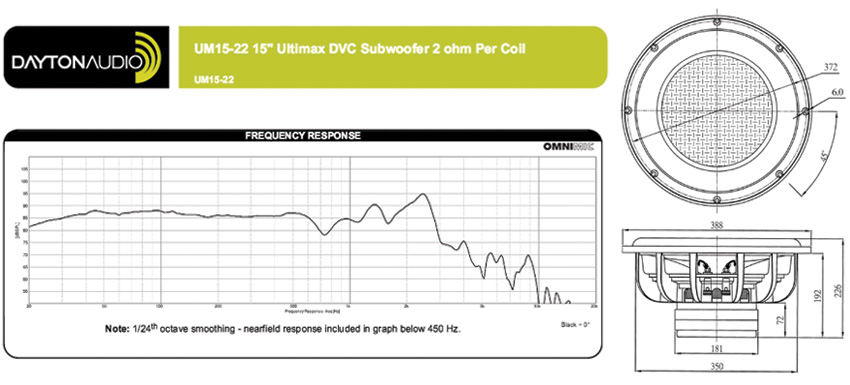 Save time, effort, and money! Combine an Ultimax subwoofer and a knockdown enclosure!
A knock-down 3.0 cubic foot subwoofer cabinet built specifically for the Dayton Audio Ultimax 15″ subwoofer is available here. Save over $30 off the price of the cabinet when you buy the cabinet and UM15-22 subwoofer (at regular price) together in this package only.
Cabinet recommendations:
• Sealed 3.1 cubic ft. (net internal) with 3 lbs. of Acousta-Stuf polyfill, f3 of 35 Hz with a 0.707 Qtc alignment
• Vented 6.0 cubic ft. (net internal, not including driver or port volume) with 6 lbs. of Acousta-Stuf tuned to 18 Hz with two 4″ diameter by 26″ long flared ports for an f3 of 22 Hz. Larger cabinets and lower tuning frequencies are possible.
Note:All parameters derived with voice coils wired in series.
Product Specifications
Nominal Diameter

15″

Power Handling (RMS)

800 Watts

Power Handling (max)

1600 Watts

Impedance

4 ohms

Frequency Response

15 to 1,000 Hz

Sensitivity

86.5 dB 2.83V/1m

Voice Coil Diameter

2.5″
Thiele-Small Parameters
Resonant Frequency (Fs)

19.5 Hz

DC Resistance (Re)

3.4 ohms

Voice Coil Inductance (Le)

1.31 mH

Mechanical Q (Qms)

2.40

Electromagnetic Q (Qes)

0.59

Total Q (Qts)

0.47

Compliance Equivalent Volume (Vas)

7.92 ft.³

Mechanical Compliance of Suspension (Cms)

0.24 mm/N

BL Product (BL)

15.4 Tm

Diaphragm Mass Inc. Airload (Mms)

279.4g

Maximum Linear Excursion (Xmax)

19 mm

Surface Area of Cone (Sd)

814.6 cm²
Materials of Construction
Cone Material

Nomex / Glass Fiber

Surround Material

Rubber

Voice Coil Wire Material

Copper

Voice Coil Former

Aluminum

Basket / Frame Material

Cast Aluminum

Magnet Material

Ferrite
Mounting Information
Overall Outside Diameter

15.28″

Baffle Cutout Diameter

13.78″

Depth

7.55″

Bolt Circle Diameter

14.65″

# Mounting Holes

8
Optimum Cabinet Size (determined using BassBox 6 Pro High Fidelity suggestion)
Sealed Volume

3.98 ft.³

Sealed F3

33 Hz

Vented Volume

11.1 ft.³

Vented F3

17 Hz
Dayton Audio UM15-22 15″ Ultimax DVC Subwoofer 2 ohms Per Coil
Brand

Dayton Audio

Model

UM15-22

Part Number

295-514

UPC

844632099267

Product CategorySubwoofer Drivers
Unit of Measure

EA

Product Rating
Weight

35.3 lbs.