Beskrivelse
NYHET! Superkraftig 18″ driver fra Dayton med FS nede i 19,5Hz, xmax på hele 22mm og 1000W RMS. Se under tilbehør for vårt nye custom tilpassede DIY kabinett, ferdig utfrest og klart for montering i gjennomfarget, sort MDF. Kabinettet er tunet på 17,9Hz, men i kombinasjon med denne driveren vil du ha god respons enda lenger ned helt uten bruk av normaliseringsfilter (EQ).
Informasjon fra produsent:
Dayton Audio's Ultimax Series DVC subwoofers are purpose-built to move tons of air and create clean, articulate, fast bass. Experience the apex of subwoofer design!
Highlights
18″ design for enormous air movement
Over 2″ of total cone travel!
1000 watts RMS power handling
Dual mirror-imaged linear spiders ensure distortion-free excursion
Dual 2 ohm, 2-layer copper voice coils
Large vented pole piece and under-spider venting
Manuals & Resources
If you want outrageous amounts of bass, you gotta move some air
With the UM18-22 Ultimax 18″ driver, Dayton Audio has taken everything about the respected Dayton Audio Ultimax subwoofers to the extreme! Providing over 2″ of peak-to-peak excursion, the Ultimax 18 sweeps over six liters of air with each stroke! Truly not for the faint of heart!
An audio bulldozer with the finesse of a sports car
Like the rest of the Ultimax series, the UM18-22 plays it clean, low, fast, and LOUD. Designed to excel in either sealed or vented enclosures, it features an ultra-powerful triple stack of high-grade ferrite ceramic magnets for ultra-high force and exceptional control, plus dual aluminum shorting rings above and below the magnetic gap for minimized inductance, "faster"-sounding bass response, and perfect magnetic symmetry. The voice coil diameter has been increased to 3 inches, for even more thermal dissipation area that allows the 18″ model to withstand 1,000 watts of punishing bass power continuously without thermal fatigue. Dual 2-ohm voice coils allow for stereo 2 ohm operation, or mono operation in 1 ohm or 4 ohm configurations, for true design flexibility.
Built to produce massive low frequency output and keep on doing it
The huge 18″ Nomex honeycomb composite curved cone features woven fiberglass outer skins for the ultimate in rigidity and resistance to damage, while the "tall-boy" rubber surround with integral gasket supports extreme stroke with linearity and durability. Dual 8″ spiders are mirror-imaged, to keep the 2″ of excursion completely linear and provide cancellation of distortion due to compliance asymmetry, for ultra-low mechanical distortion even at the outer limits of travel. And it's all held in perfect alignment by a rigid cast aluminium 12-spoke frame, for stability in any mounting position.
Put your home's construction to the test with the phenomenal bass output of this 18″ beast!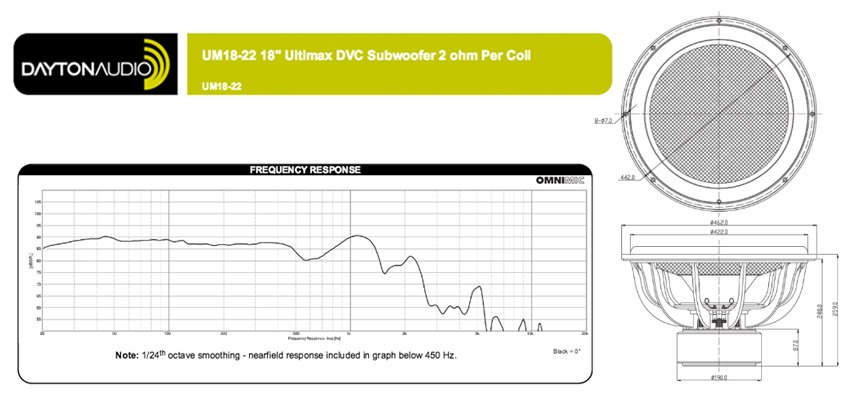 Car audio recommended alignments:
• Sealed 3 cubic ft. (net internal, not including driver) for an f3 of 32 Hz with a Qtc of .78
• Vented 4 cubic ft. (net internal, not including driver or vent ) tuned to 22 Hz, with 2 flared vents 4″ diameter by 32″ long, for an f3 of 24 Hz
Home theater/stereo recommended alignments
• Sealed (home theater/music): 4 cubic ft. (net internal, not including driver) for an f3 of 31 Hz, f10 of 18 Hz with a Qtc of 0.72
• Sealed (music): 7 cubic ft. (net internal, not including driver) for an f3 of 31 Hz, f10 of 15.8 Hz with a Qtc of 0.62
• Vented (home theater): 8 cubic ft. (net internal, not including driver or vent) tuned to 20 Hz, with 3 flared vents 4″ diameter by 28.5″ long, for an f3 of 18 Hz
• Vented (infra-sub): 12 cubic ft. (net internal, not including driver or vent) tuned to 15.5 Hz, with 3 flared vents 4″ diameter by 32″ long, for an f3 of 15 Hz
• Infinite Baffle: Approved (reaction force cancellation recommended )
Note: All specifications are derived with voice coils wired in series.
Product Specifications
Nominal Diameter

18″

Power Handling (RMS)

1,000 Watts

Power Handling (max)

2,000 Watts

Impedance

4 ohms

Frequency Response

19 to 500 Hz

Sensitivity

88.6 dB 2.83V/1m

Voice Coil Diameter

3″
Thiele-Small Parameters
Resonant Frequency (Fs)

19.50 Hz

DC Resistance (Re)

4.4 ohms

Voice Coil Inductance (Le)

2.22 mH

Mechanical Q (Qms)

3.82

Electromagnetic Q (Qes)

0.62

Total Q (Qts)

0.53

Compliance Equivalent Volume (Vas)

7.49 ft.³

Mechanical Compliance of Suspension (Cms)

0.10 mm/N

BL Product (BL)

23.8 Tm

Diaphragm Mass Inc. Airload (Mms)

655g

Maximum Linear Excursion (Xmax)

22 mm

Surface Area of Cone (Sd)

1,219 cm²
Materials of Construction
Cone Material

Nomex / Glass Fiber

Surround Material

Rubber

Voice Coil Former

Aluminum

Basket / Frame Material

Cast Aluminum

Magnet Material

Ferrite
Mounting Information
Overall Outside Diameter

18.24″

Baffle Cutout Diameter

16.75″

Depth

9″

Bolt Circle Diameter

17.40″

# Mounting Holes

8
Optimum Cabinet Size (determined using BassBox 6 Pro High Fidelity suggestion)
Sealed Volume

4.22 ft.³

Sealed F3

31 Hz

Vented Volume

11.79 ft.³

Vented F3

16 Hz
Dayton Audio UM18-22 18″ Ultimax DVC Subwoofer 2 ohms Per Coil
Brand

Dayton Audio

Model

UM18-22

Part Number

295-518

UPC

848791001062

Product CategorySubwoofer Drivers
Unit of Measure

EA

Product Rating
Weight

44.3000 lbs.