Beskrivelse

Husk at Zidoo-spillerne primært er laget for avspilling av kildemateriale fra disk / NAS, og dette med ekstremt høy kvalitet (det beste vi har sett så langt). Til streaming av Netflix og tilsvarende er det via Android mulig å laste ned appen og få det til å fungere, men kvaliteten er ikke nevneverdig god. Til streaming anbefaler vi derfor heller en Apple TV eller tilsvarende.
NYHET! AVshop er ny importør av mediaplayermerket Zidoo, som har en rekke spennende funksjoner og topp kvalitet. Vi har disse i demo på showrommet, velkommen innom for en titt!
Functional overview
430mm standard size, excellent texture with all-aluminum alloy brushed panel, frosted upper cover, thickened bottom and shockproof foot pad.

A new generation of Realtek RTD1619 DR hexa-core 64-bit A55 CPU with larger bus processing capacity and faster computing efficiency.

4G DDR4 + 32GB eMMC large memory, 64-bit bandwidth, system is fluent.

XMOS+ESS9068 DAC supports hard decoding MQA/DSD512/PCM 768KHz 32Bit.

Supporting MQA, SACD ISO (stereo), DSF, DFF, WAV, FLAC etc. and seamless playback and CUE track.

Supporting USB DAC in as good as high end audio decoders, it is also compatible with Windows 7/10, MAC OS and Android.

High-quality switching power supply + large toroidal linear power supply, which is specially designed for audio and video circuits independently to ensure strong power source and good signal output.

High-fidelity audio decoding supports XLR full balance and RCA analog audio output.

Dual HDMI audio and video separate output can enjoy 4K video and HD audio at the same time without upgrading AV amplifier.

Android 9.0 operating system has significantly improved system performance and stability, the operation is more free and smooth.

Large LED display panel, dual hidden NSS patented HDD bays and each HDD bay support capacity up to 16TB.

The built-in VS10 image quality engine supports Dolby Vision processing and mapping any image to colors similar to Dolby Vision, which greatly improves the image quality.

HDMI 2.0 supports 4K 60Hz point-to-point output, HDR (HDR10/HLG/HDR10+/Dolby Vision), 12Bit, BT.2020 wide color range and YCbCr 4:4:4 color space. Supporting outputting raw three-dimensional multi-channel audio format based on object.

Processing HDR10 static metadata (MaxFall, MaxCll) more accurately which shows higher brightness and deeper black level.

Supporting acquiring and processing HDR10+ dynamic metadata, colors and brightness are obtained frame by frame and scene by scene.

More advanced Dolby Vision technology supports high-quality Dolby Vision low latency (LLDV) output, which can output the most suitable brightness for each frame and scene, shadow is darker while highlight is brighter, vision effect is amazing.

Automatic frame rate 23.976 and resolution ensures smooth movie playback without interruption.

Supporting external BD/DVD (unencrypted)/CD discs and CD ripping.

Complete BD/BD3D/UHD Blu-ray menu playback and Blu-ray seamless branching playback are supported.

Almost all common 3D video formats could be played, including MVC 3D (Blu-ray, MKV).

Graphics special effects subtitles are supported and subtitles brightness can be adjusted. Subtitles can be downloaded. Zidoo is the only one among the field to support BLURAY and MKV forced subtitle.

Roon Ready and Spotify music streaming and high-definition online video playback are supported.  DRM Widevine L1 is also supported.

Home Theater app supports automatic poster scanning, movie trailers and custom classification and management.

The newly upgraded version of Music Player supports seamless playback, personalized configuration, associated lyrics and songs matching.

Standard WOL works well. Zidoo can be integrated into smart home with Control4 OS 3.0 control system (on/off can be controlled).

Supporting the exclusive Zidoo Controller APP for iOS and Android mobile phones, which can seamlessly play and control Zidoo media players (on/off can be controlled).
Ultimate HiFi Flagship
UHD3000 is our best product with multiple innovative underlying AV decoding technologies

A ultimate flagship media player combines UHD cinema player with HiFi audio-decoding

Excellent design and craftsmanship, top SOC and 4GB DDR4+32GB eMMC storage

Support Dolby Vision VS10 engine and advanced 4K 12Bit HDR10+/Dolby vision decoding

Support ESS 9068 DAC audio decoding, MQA, and DSD512 hardware decoding

Intoxicating HiFi music experience
Exquisite Craftsmanship and Excellent Quality
Delicate Appearance
Auxiliary heat dissipation aluminum alloy chassis

Aluminum alloy brushed front panel and frosted upper cover

Solid and stable with outstanding texture
Hidden Dual HDD Bays
Hidden dual HDD bays with beautiful design and easy to use

Up to 16TB for each HDD bay
Large LED Display Panel
Various working status indicators

Brightness adjustment and on/off settings
Independent Dual Power Supplies
UHD3000 digital circuit and analog circuit are equipped with independent power supplies. A group of large toroidal linear power supply provides strong and clean power for audio components and has excellent efficiency to reduce external magnetic field interference. Another group of switching power supply is specially designed for digital circuits. The efficient direct current output improves the quality of audio and video output
ESS9068 Monitor-level DAC Audio Decoding
Zidoo has reached a deep and long-term strategic cooperation with the ESS. UHD3000 is the first one to be equipped with a new generation of ESS 32-bit HyperStream ESS9068 DAC decoder chip. In addition to supporting DSD512 and [email protected] decoding, it also supports three-layer 8 times expanded MQA encoding format hardware decoding. It is the only media player among the field that can support MQA hardware decoding
XMOS + Dual Crystal Oscillators
UHD3000 is equipped with XMOS chip. It works perfectly with Zidoo music player to process ultra-high-sampling master-level audio formats, and can losslessly transfer the original data 1:1 to high-index DAC for hard-decoding output. Two high-precision crystal oscillators (45.1584MHz and 49.152MHz) respectively correspond to 44.1KHz and 48KHz multiplier sampling, which effectively reduce jitter and ensure more accurate audio decoding
High-end HiFi Audio Decoding
UHD3000 has a USB DAC IN port, which greatly expands the audio function. UHD3000 becomes a high-performance audio decoder after connecting to music streamer with USB output. Sound quality is as good as high-end independent decoding device
Fully Balanced Signal
UHD3000 adopts fully balanced design for the RCA stereo output,XLR output and DAC decoding. It provides better noise immunity. The channel separation degree is improved and the signal quality is more stable and powerful by eliminating the shared loop
Exquisite Craftsmanship Handpicked Components
UHD3000 analog output can present audiophile monitor-level sound quality. The circuit design and materials are handpicked. The main board is made of immersion gold technology, which is equipped with four audiophile operational amplifiers and selected audiophile auxiliary components including NICHCON, WIMA, ELNA etc. Every detail is made with great effort to improve the audio quality
Powerful CPU
UHD3000 is equipped with Realtek RTD1619DR A55 hexa-core 64-bit high-performance processor, which is greater bus processor capacity, response speed and more efficient calculation. The strong decoding performance helps achieving excellent audio-visual playback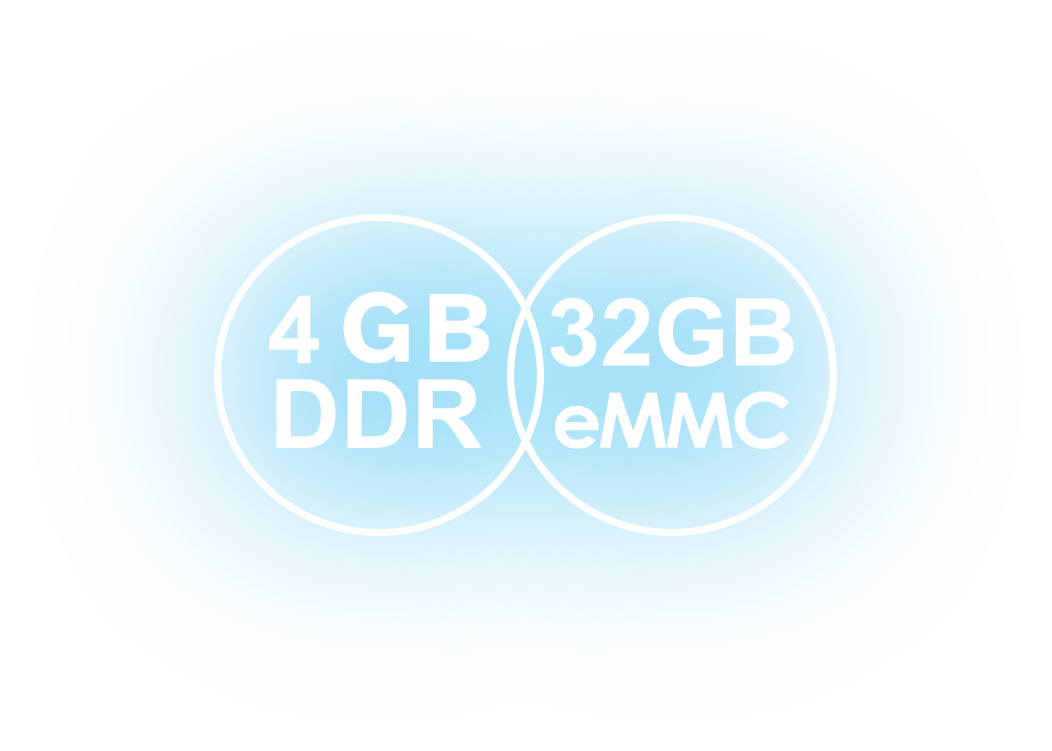 Large Memory and Internal Storage
2GB DDR4 large memory comes with fast and smooth playback response, which helps enjoying wonderful movie and music. 32GB eMMC super internal storage supports installing masses of favorite apps and create more possibilities for audio-visual entertainment
Independent HDD Bays and HDMI AV Separate Output
UHD3000 has two independent SATA3.0 HDD bays, each of them supports one hard drive up to 16TB
Dual HDMI ports can support audio and video separate output
[email protected] HDR 12Bit and native 3D immersive audio output
Best choice for audio and video enthusiasts
4K HDR Video Technology
Zidoo aims to give users the ultimate experience of media players with years exploration of leading audio-visual technologies
UHD3000 is equipped with Realtek RTD1619DR hexa-core A55 processor which can easily decode HEVC/H.265 encoded 4K HDR video
Dolby Vision VS10 image quality processing engine is built-in, supports Dolby Vision LLDV processing and 3840 x 2160 60Hz 4K output
Even ordinary film can be processed to get the best picture quality performance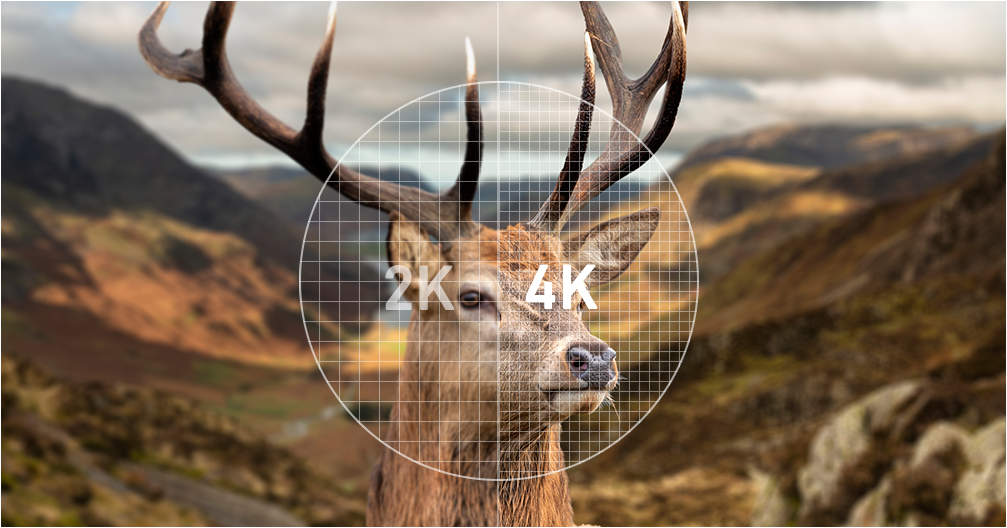 Accurate Frame Rate Switching
UHD3000 supports switching original resolution and frame rate automatically and accurately (23.976,59.94,25,30,50 and 60). The new automatic switching algorithm allows completing the film frame rate switching in advance to ensure smooth and integral film playback
Dolby Vision VS10 Image Quality Engine
UHD3000 integrates Dolby Vision VS10 image engine,which has adopted advanced dynamic metadata processing technology, so that the most suitable brightness could be output for images and scenes of each frame. Shadows are darker while highlights are brighter. Even in the dark and weak-light environment, it could also display the best visual effect. No matter what formats (Dolby Vision, HDR,HLG,SDR etc.) or displaying devices, whether HDR outputting or SDR converting, all could keep color accuracy and bring good experience to customers. Even normal TV could experience Dolby Vision technology
* Brightness range: 0.007nits - 10000nits
Higher Level HDR10+
UHD3000 takes the lead in adding HDR10+ technology, which could not only display peak brightness up to 4000 nits, but also process metadata accurately for each frame. Namely, colors and brightness levels are obtained frame by frame and scene by scene, images could be displayed in details with wide dynamic contrast and richer colors

HDR10+ brightness range: 0.005nits - 4000nits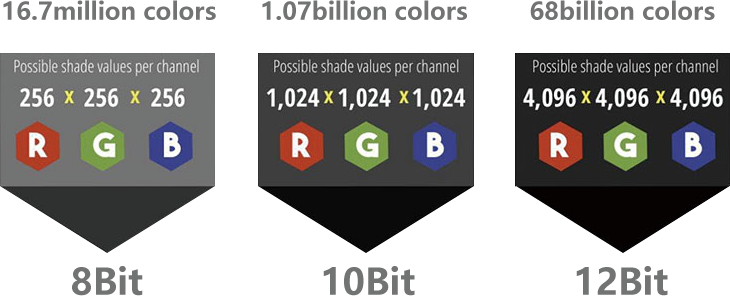 12Bit Color Depth
UHD3000 new image engine not only supports 10Bit (approximately 1.07 billion colors) decoding and outputs at the resolution of 4K 60Hz, but also supports higher color depth 12 bit (approximately 68 billion colors) . 12 bit has vibrant colors and natural color transition
Wider Color Range
UHD3000 supports BT.2020 wide color range which can display 75% nature colors and closer to what human eyes see, while traditional BT.709 could only display 35% nature colors. It has bright and eye-catching colors, rich and full images, and a better sense of space, three dimension and layering.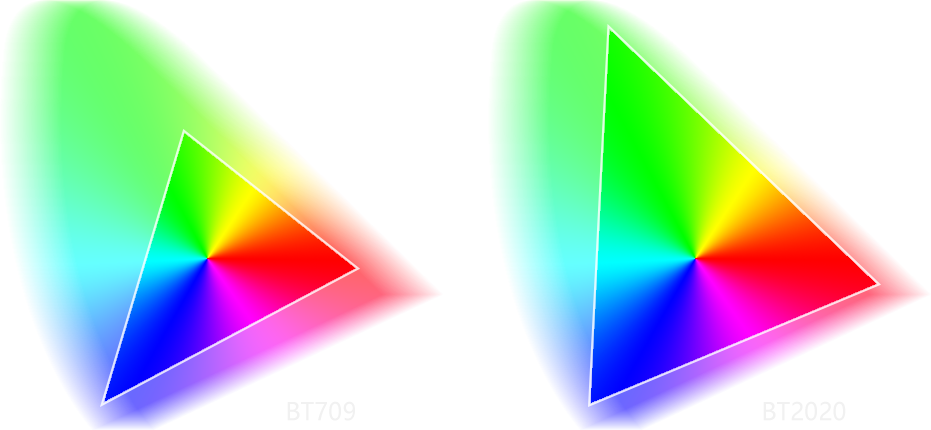 Android 9.0
Based on deep development of Android 9.0, the system performance of UHD3000 has greatly improved with better stability and compatibility. Masses of apps could be installed. DRM widevine L1 is also supported
Cool Poster Wall
UHD3000 comes with new movie posters management system in new algorithm
It has concise navigation, personalized category, record viewing and custom collection etc.
It makes movie collection more convenient and fully improves the efficiency of mass movies management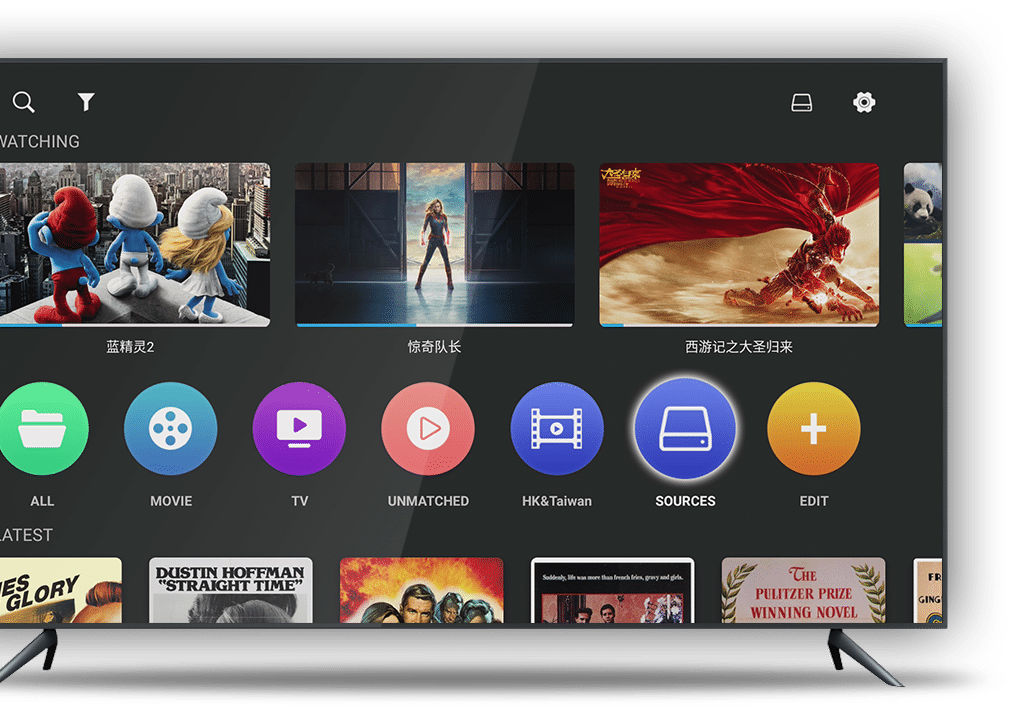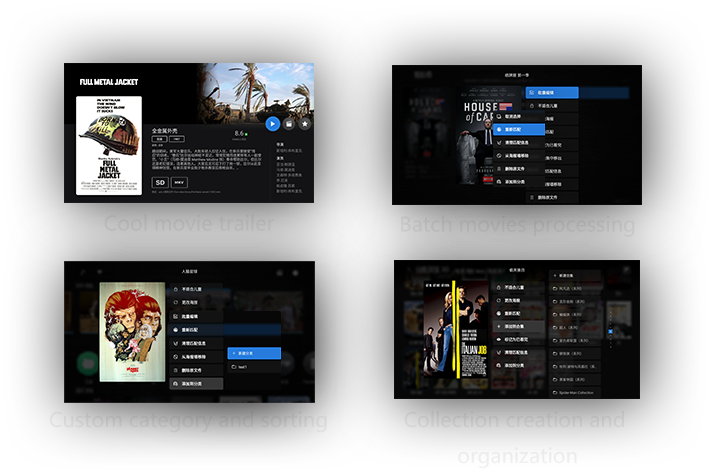 Smooth Blu-ray Seamless Branching Playback
UHD3000 optimizes the video playback engine, which improves the Blu-ray seamless branching playback and says goodbye to stuttering and messy playback issues. BD and UHD Blu-ray menus are played just like enjoying movies in a cinema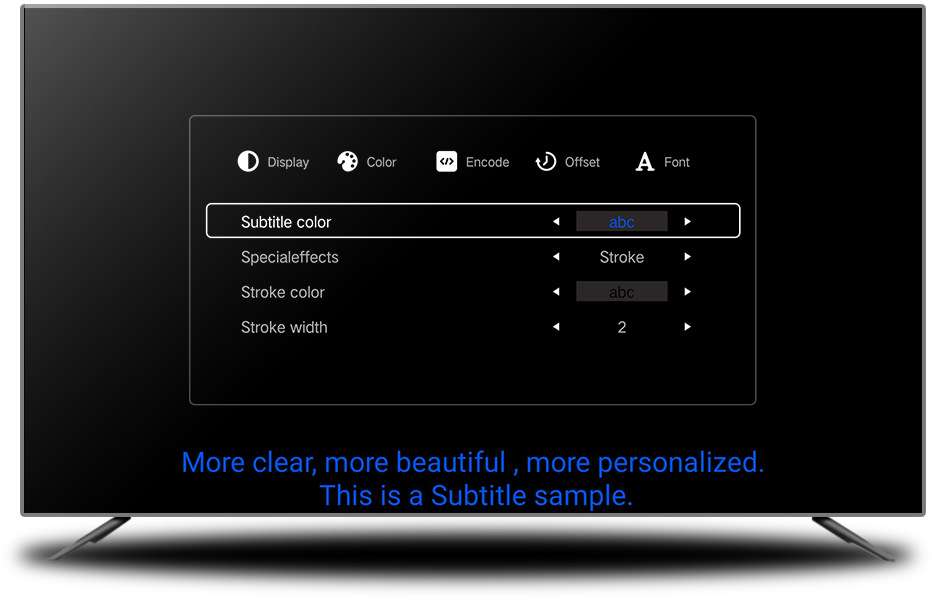 Convenient Subtitle Download and Subtitle Setting
UHD3000 supports downloading subtitles and multiple subtitle formats such as PGS, ASS, SSA, SUP, SUB, SRT, etc.; Subtitle font, color, special effects and location can all be customized ; The brightness of graphic subtitles (embedded PGS and external ASS special effects subtitles) can be adjusted, which led the way of the industry ; MKV and Bluray format forced subtitles are also supported
Smart Music Library
Music library can be generated from both network drive and local hard drive. It is so powerful that we could collect and manage masses of audio files and enjoy lossless music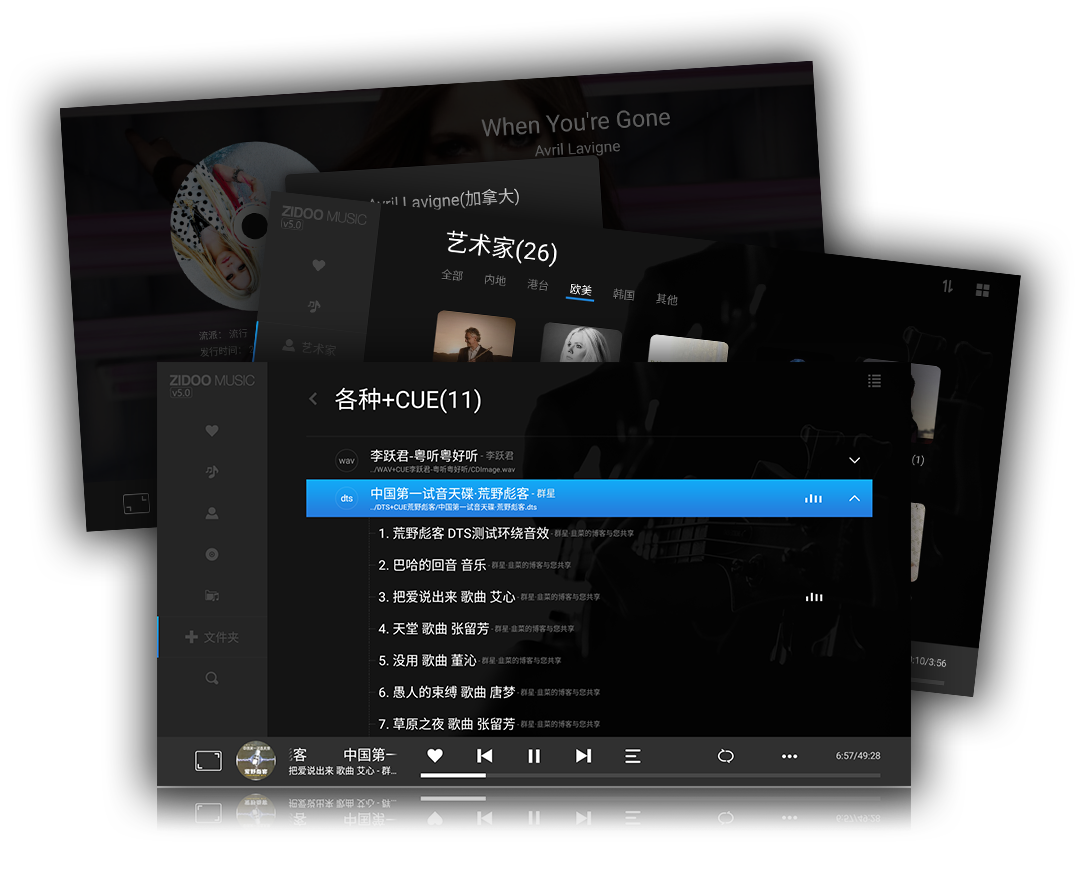 Master-tape Level Audio Decoding
UHD3000 music player supports to play both lossless formats FLAC, WAV, APE, DTS, etc. and master-tape level music formats MQA, DSD512 (SACD ISO/DFF/DSF/DSD). Various sampling formats,CD-ROM playback and CD ripping are also supported ( external CR-ROM is required)
Music Streaming
UHD3000 can not only play audio files in local storage devices via DAC decoding
But also supports streaming from DLNA, Roon Ready, Spotify and other third-party music streaming app, which helps users to choose their favorite music from different applications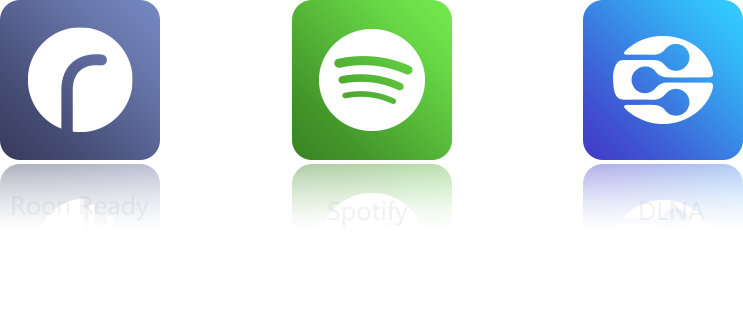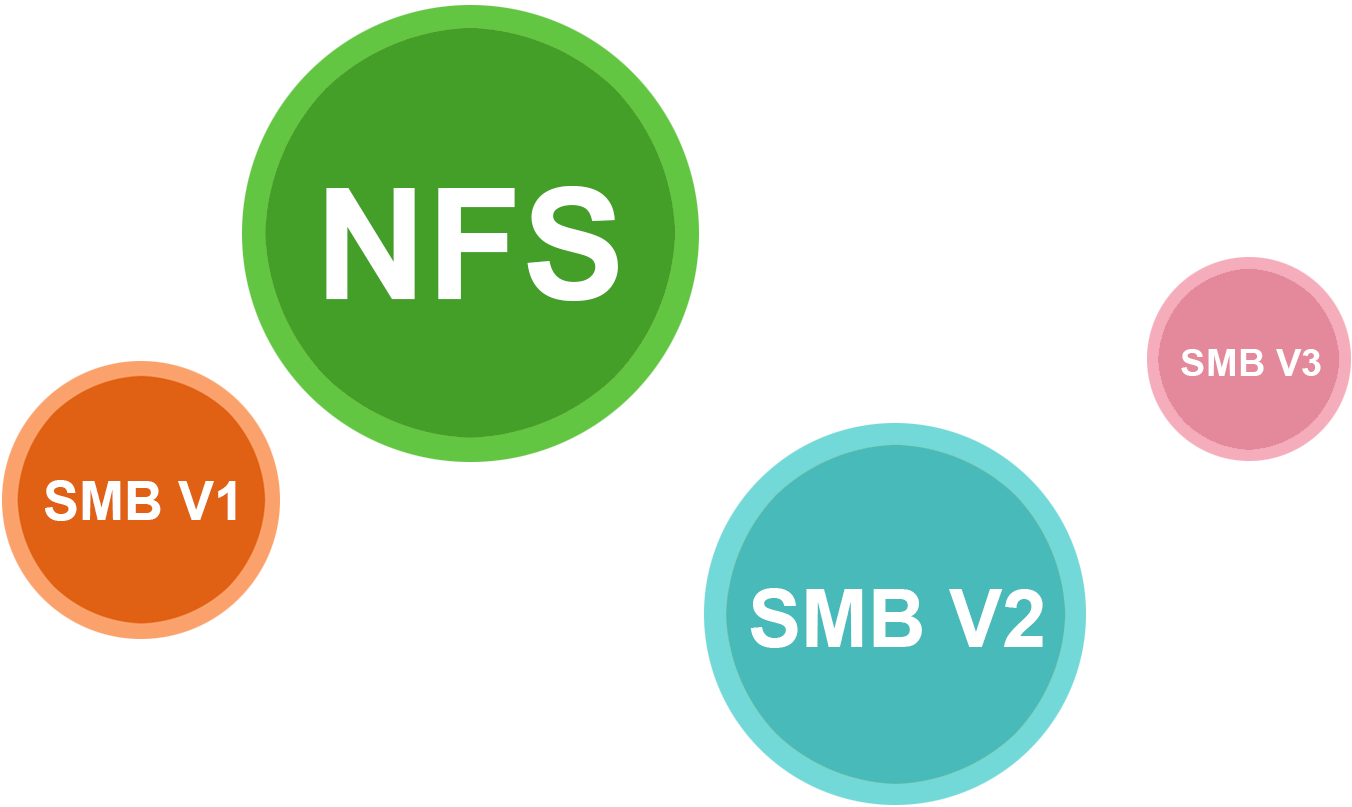 Network Sharing Protocol
UHD3000 supports Gigabit network transmission, it could work with NFS, SMB v1/v2/v3, UPnP network protocols. It will automatically scan all available network drives in the LAN and read data quickly and reliably. NAS, PC and other servers are supported
Zidoo Controller APP
Zidoo Controller APP could control media players seamlessly in LAN. Home Theater and Music Player could be set on cell phone without suspending audio and video playback. Music could be played without turning on displaying device. And media players could be powered on/off without remote control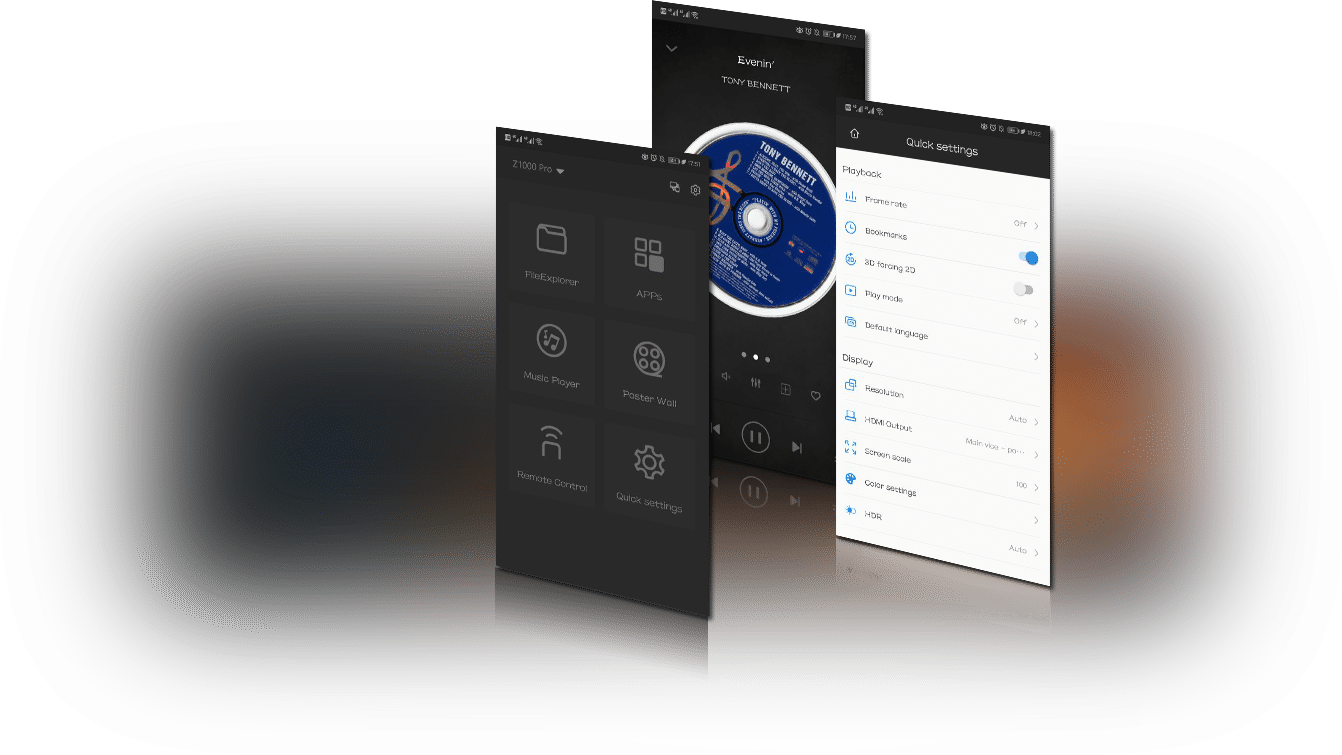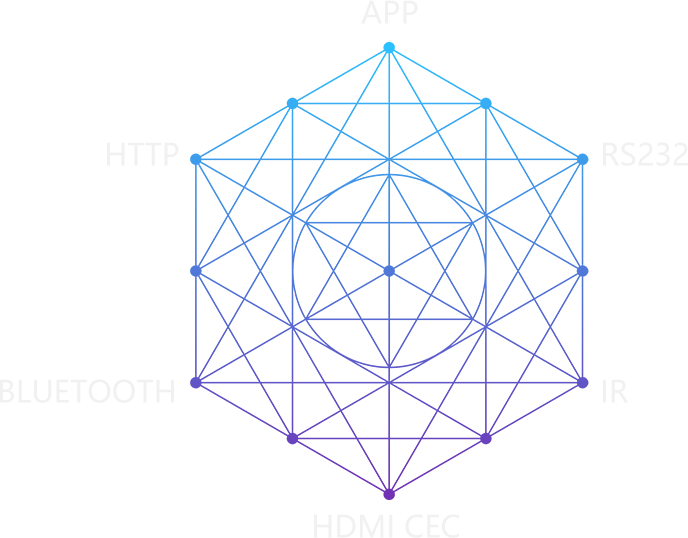 Smart Control System
Apart from Zidoo Controller cell phone APP, Zidoo also supports HTTP (standard WOL is supported), RS232,HDMI CEC, Bluetooth and IR control methods for smart control system