Beskrivelse
NB! Husk at du trenger en kalibrert målemikrofon for å gjøre de nødvendige målinger, vår anbefaling er UMIK-1 fra miniDSP.
NB! 1stk plugin medfølger i form av en kupongkode som lar deg bestille 1stk plugin på www.miniDSP.com gratis.
Du kan også velge å senere oppgradere din 2x4HD til Dirac Live, et av verdens beste automatiske systemet for automatisk kalibrering. Dette kjøper du bare direkte fra miniDSP.com: https://www.minidsp.com/products/dirac-series/2x4hd-to-ddrc-24.
Her er en god video som viser hvordan du benytter miniDSP og REW for korreksjon av multiple subber fra A-til-Å.
Informasjon fra produsent
MiniDSP 2x4 HD, a USB DAC+DSP in a low cost package powered by a powerful Sharc 400MHz floating point DSP
Introducing the long-awaited "reboot" of miniDSP's best-selling 2x4 digital audio processor: the miniDSP 2x4 HD! This tiny powerhouse is jam-packed with miniDSP's tried and proven audio processing functionality: flexible para-metric EQ, Butterworth and Linkwitz-Riley crossovers, advanced biquad pro-gramming, and delay on each output channel. miniDSP's "one hardware many plugins" concept allows for many interesting future applications!
The upgraded on-board 400 MHz Analog Devices SHARC processor also ena-bles substantial processing upgrades previously available only on more ex-pensive platforms, such as 96 kHz internal processing for true high-resolution audio capability and assignable FIR filter taps for sophisticated equalization, crossover, and room correction capabilities. All to be accessed and programmed with miniDSP's easy-to-use interface software.
I/O capabilities get an upgrade too, with the addition of USB audio streaming up to 192 kHz and a TOSLINK digital input. The miniDSP 2x4 HD will find application in full-sized hifi and home theater systems, on desktops, in cars, in recording studios — anywhere a compact, simple, yet surprisingly powerful DSP audio processor is needed.
Features
ADSP21489 400MHz Sharc DSP floating point engine
XMOS Xcore200 for USB control and bidirectional audio streaming
24 bit ADC/DAC resolution
Unbalanced inputs switchable with a jumper between 4Vrms and 2Vrms
Toslink digital input
Unbalanced outputs: Max 2Vrms
USB Audio Class 2 Bidirectional streaming with ASIO drivers, driverless under MAC OSx
4 preset configuration, recallable via IR, Software
Plug&Play USB driver and real time Software configuration using miniDSP plug-ins
Device does not required a PC once configured
External single 12V supply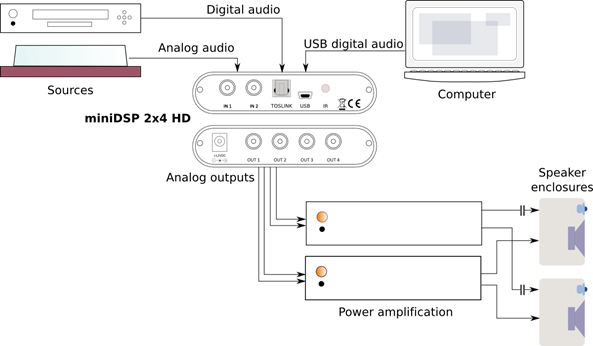 Product Downloads
Software plug-in to be purchased separately
What's in the box?
1 x MiniDSP 2x4 HD, board assembled and ready to use
1 x 12V power supply with UK/EU/US/AU plugs
1 x shielded USB cable
Optional Accessories
UMIK-1, unique calibration file mircophone for accurate acoustic measurements
Audio RCA cables
Comparing features
 

| miniDSP 2x4 | miniDSP 2x4 HD |
| --- | --- |
| 28/56bit Fixed point DSP Engine | ADSP12489 400MHz Sharc floating point DSP |
| 24 bit ADC/DAC resolution | 24 bit ADC/DAC resolution |
| Unbalanced analog audio inputs switchable with a jumper between 0.9Vrms and 2Vrms | Unbalanced analog audio inputs switchable with a jumper between 4Vrms and 2Vrms |
| Digital I/O: I2S in/out | Digital I/O: USB audio I/O, Toslink input (44.1~192kHz), I2S I/O (not enabled yet) |
| Unbalanced analog audio outputs: Max 0.9Vrms | Unbalanced analog audio outputs: Max 2Vrms |
| Plug&Play USB driver and real time Software configuration using miniDSP plug-ins | Plug&Play USB driver and real time Software configuration using miniDSP plug-ins |
| N/A | Asynchronous USB Audio Class 2 Bidirectional streaming with ASIO drivers under Windows, driverless under MAC OSx |
| Device does not required a PC once configured | Device does not required a PC once configured |
| Software: miniDSP 2x4 plug-ins | Software: miniDSP 2x4 HD1 plug-in |
| Control: Volume control by potentiometer on 3pin header | IR remote + multicolor LED for preset indication |
| USB self powered device and wide range of DC power options (4.5 to 24VDC) | External single 12V supply (UK/EU/US/AU adaptors provided) |
Digital Signal Processor Engine
Analog Devices Fixed point DSP SHARC
ADSP21489
Internal Processing resolution 
& Sample rate
32 bit / up to 192 kHz
Input/Ouput Configuration
2 in / 4 out
Audio Input Connectivity
Unbalanced analog input, RCA terminated
Stereo Digital Inputs: TOSLINK (optical)
Stereo USB audio input: USB Audio
Supported ASCR: 20~216kHz
Audio Output Connectivity
Unbalanced output, RCA terminated
USB Audio streaming: USB audio 4ch
Input / Output Max Levels
IN: 2Vrms / 4Vrms (jumper-selectable)
OUT: 2Vrms
Input Impendance
10 kΩ
Output Impedance
560 Ω
Calibration Software
miniDSP 2x4 HD1 plug-in
Filtering Technology
FIR + IIR
DSP Presets
Up to 4 presets
Dimensions
27 x 119 x 107 mm
Power
12 VDC single supply
2.1 mm round plug
2.5W
Impulse Response Correction
✘
Infrared Remote Learning
✔
Win/Mac Compatible
✔
UMIK-1 Included
✘
Bass Management
✘
Room EQ Wizard Support
✔