Beskrivelse
NB! Husk at du trenger en kalibrert målemikrofon for å gjøre de nødvendige målinger, vår anbefaling er UMIK-1 fra miniDSP.
Dette er den ikke-balanserte utgaven, og den benytter vanlige RCA-plugger.
PS! Dirac-lisens medfølger ikke og må kjøpes separat på www.minidsp.com. Enheten leveres imidlertid med miniDSP sin egen velfungerende software.
Informasjon fra produsent
The miniDSP Flex is the 3rd generation of our popular line of compact 2-in, 4-out audio processors. It retains the powerful floating point processor but rethinks the I/O architecture so we can provide our customers with different input-output versions in this compact chassis. The initial versions are single-ended analog I/O (RCA), balanced analog I/O (TRS) and digital out with superb audiophile specification for your enjoyment.
All versions include a set of digital inputs: USB audio, S/PDIF (RCA/optical) and Bluetooth (LDAC/aptX). An OLED front panel display and volume control/encoder knob provides easy control. As always, the Flex series is jam-packed with miniDSP's tried and proven audio processing functionality: flexible parametric EQ, IIR & FIR filters, crossovers, advanced biquad programming and delay on each output channel. Last but not least, all platforms are easily software-upgradable with Dirac Live®, the world's premiere room correction system for full range (20~20kHz) tuning.
The miniDSP Flex will find a myriad uses in applications ranging from a compact digital stereo preamp through subwoofer integration and optimization to active speakers, home theater and recording studios. You just need to let your creativity do the rest!
Hardware Features
Processor: 32-bit floating-point 400MHz Analog Devices SHARC DSP
Multi-Core USB Audio processor (XMOS)
Bluetooth streaming: LDAC™/aptX™ HD/aptX™/AAC/SBC
Optional upgrade to Dirac Live® 3.x Digital Room Correction, Full Range Room Correction (20~20kHz)
Audiophile performance: SNR@120dB(A), THD+N @ -110dB (0.0003%)
Inputs: Stereo digital (USB Audio/SPDIF/Optical/Bluetooth), stereo analog (Unbalanced RCA)
Flexible Output versions: Unbalanced (RCA), Balanced (TRS), Digital (TOSLINK & SPDIF)
USB audio recording feature (4xCH processed output via USB audio to record inputs, e.g. Vinyl)
White/Black OLED front panel controller with IR control
Product Downloads
What's in the box?
Digital Audio Processor — Flex based on the I/O configuration selected. No Dirac Live license for default configuration
12V univeral power supply (UK/EU/US/AU plugs)
USB cable
Optional Items
Dirac Live v3.x Full range license (20~20kHz) / Must be selected in the shopping cart as an option.
Microphone tripod
TRS to XLR cables (Inputs, Outputs)
NOTE: The UMIK-1/2 are measurement microphones approved by Dirac Research. Knowing the major effect a wrong calibration/measurement would have on the final results of Dirac Live tuning, we strongly recommend that you select a UMIK-1/2 microphone together with your platform for a plug&play experience leading to best results. Any issues related to 3rd party microphones such as ASIO/USB audio driver incompatibility/Latency problems or incorrect calibration process will not be under our support structure by our support team.
Understanding LDAC™ Wireless audio
LDAC™ is Sony's High Quality wireless audio streaming and we at miniDSP thought it would be great to showcase its benefits. By nature, Bluetooth audio streaming is very convenient but it's not without its limitations and until recently has not been an audiophile experience. LDAC is a new CODEC enabling 3 x the data to improve your enjoyment. You can read more on the Sony LDAC™ page Sony LDAC™ page.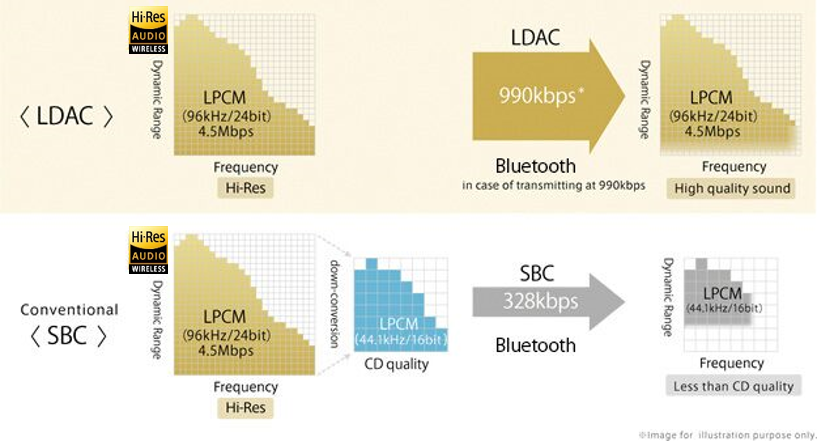 These pretty graphs are great but how about some measurements? We took some measurements with our Audio Precision APx555 to compare AAC Bluetooth with LDAC. Shown below are our measured results with a 24-bit 96 kHz source file. The lower distortion and noise of LDAC is clearly evident, with the SINAD metric being over 50 dB better! This translates in better audio performance for your wireless audio streaming. Not convinced by this graph? Have a listening trial and share with us your feedback!